Play Video
What People are saying
Testimonial from NBA Hall of Famer, Rick Barry!

Evan Kaplan
Executive Vice President, Licensing & Sponsorship
MLB Players Inc.
"We've worked with Justyn for the last several years. We love the type of work he does. He captures the essence of the players and everyone loves seeing his art. We have had him at several of our events painting live and it's always been a big hit with the fans."
Dave McCarthy
Executive Director
Ted Williams Hitters Hall of Fame Museum

"We are honored to have Justyn Farano as the official artist of the Ted Williams Museum & Hitters Hall of Fame. Painting live in front of large crowds prior to home games at the Museum and special events we have held, Justyn's work has been admired and respected by thousands of fans that visit the Museum each season. I personally can attest to the many professional players that retain Justyn for their personal portraits and artwork. No matter what sport you like, Justyn hits a Grand Slam with his magnificent paintings."
Scot Mondore
Director of Licensing & Sales
National Baseball Hall of Fame and Museum
Justyn Farano's work reflects the quality and excellence found throughout the National Baseball Hall of Fame and Museum. We are proud to partner with Justyn, whose art captures the essence of the National Pastime.
Greg Harris
President & CEO
Rock and Roll Hall of Fame and Museum
"Justyn really captures the intensity of these players. There's a tenacity and there is a grit; that you immediately feel that you are at that moment watching these players play."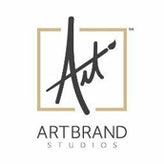 James Lambert
Publisher
Art Brand Studios
"Justyn Farano is a rare talent whose artwork touches our hearts, causing us to stop and wonder at a talent that inspires us to reach for the impossible within. Inspirational, alive and filled with the passion of sport and life, Farano captures the champion in each of us."
Ken Griffey Jr.
Former MLB Player
Baseball Hall of Famer
"What makes this painting special, it's actually the first one that I've gotten as a member of the Hall Of Fame. It's going down in the man cave."
Scott Saklad
General Manager
Red Sox Team Store
"Farano's art is unique and quite impressive. His work is a great part of the overall assortment in our Red Sox Team Store.  Whenever Justyn is able to make an appearance and paint live, it's a big hit with our fans."