Corporate, Player


& Team giftings
Corporate
Gifts
Corporate Packages & Special Gifting
Player Gifting for Accomplishments & Accolades
Season Ticket & Suite Holder Gifting & Incentives
Customized Product Offerings
Retirement & Milestone Gifts
Honor that special player and their contributions with a one of kind gift. Whether it is for achieving career milestones or to celebrate a storied career, a Farano masterpiece makes an ideal unique gift and classic tribute that the player and fans will cherish forever. For the player, as they reflect, it brings back those special memories and emotions that can only be created through exquisite art. The painting also then becomes a legacy piece for that player's family.
The New York Yankees commissioned Justyn to create an original piece that was gifted to Derek Jeter to commemorate his retirement from MLB. It was so well received that they commissioned him once again to create a piece for league rival David Ortiz upon his retirement from MLB. That piece was presented to David during a pre-game ceremony prior to his last game at Yankee Stadium.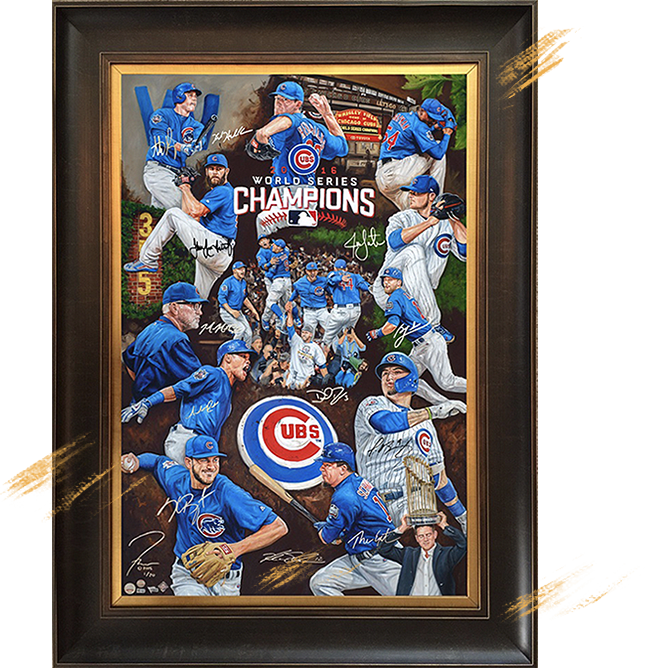 Team Championships
The goal of every team is to win their league championship each season. When such a triumph occurs, every person involved in the organization becomes a piece of sports and team history. Celebrate this incredible achievement with a Farano Team Championship masterpiece.
Once the original painting is completed by Farano, we can leverage the art to offer various types of editions and products. Working within a specified budget, these items can be shared with varied levels within the organization as well as with sponsors and key partners.
Justyn's expansive art portfolio can be leveraged to greatly benefit leading charities and foundations. To support a broad range of events, we offer two levels of involvement.
Our Gold Partnership provides a turn-key, on-site pop-up gallery which offers guests the opportunity to purchase unique fine art generating sizable donations.
Our Platinum Partnership is geared for charities that have a high profile athlete or entertainer as their figurehead. This relationship has a few specific layers which can help make a typical charity event extraordinary.
Pending scheduling, both levels can be bolstered by Justyn participating in the event further creating an increased level of ambiance and sophistication.
For booking considerations, opportunities, and fee structure please fill out our inquiry form below.